Pelan Pinjaman Peribadi Dengan Faedah Terendah? Macam mana nak mohon tu?
Normal sekiranya anda nak buat pinjaman peribadi untuk sedikit wang tambahan.
Tapi, anda tahu tak apa pelan terbaik untuk anda buat pinjaman peribadi?
Tak tahu? Jangan risau..
Entri kali ini, Pemberitahuan menyediakan entri untuk anda dengan mengenalkan 5 Pelan Pinjaman Peribadi Terbaik dengan Kadar Faedah Terendah.
Tak payah pening-pening, anda tinggal pilih mana yang sesuai dengan keperluan anda.
Mari teruskan bersama kami, kita semak satu persatu.
5 Pelan Pinjaman Peribadi Dengan Faedah Terendah 
Pemberitahuan tidak mengubah apa-apa yang tertulis di dalam katalog produk pinjaman peribadi. Oleh itu artikel kali ini dalam bahasa english. Sila rujuk google translate jika kurang faham.
Ini adalah pelan pinjaman peribadi faedah terendah di Malaysia terkini seperti yang tersenarai ini.
Pinjaman peribadi ini amat mudah untuk dimohon dan sesuai kini buat anda cuba mohon.
1. Ambank Personal Financing-i
Get a personal loan with a profit rate from as low as 6.9% from Ambank, subjected to terms and conditions. The loan is Shariah-compliant, and no guarantor, collateral or advance instalments are required for this loan. You will also enjoy Ibra' rebate if you make early loan settlement and takaful coverage will be included for this loan.
For those working in civil service, repayment for the loan will be through Biro Perkhidmatan Angkasa (BPA) through salary deduction, while those working in the private sector will be though auto debit via their AmBank account. Do take note that this loan is limited to employees in the civil service and employees of selected private and government linked companies. Click here to see the list of companies eligible. The profit rate for financing is as below:
Employees in civil service
From 4.30% per annum for those in the civil service. Click here for more information on the profit rate and repayment amount.
Employees in selected private sector and GLC
6.90% per annum.
Eligibility
Civil servants:
Malaysian citizen, age between 18 – 60 years old
Minimum monthly income RM1,500
Government linked companies:
Malaysian citizen, minimum age of 21 years old
Minimum monthly income RM3,000
2. Bank Rakyat Personal Financing-i Private
This is another Shariah compliant personal loan based on the concept of Tawarruq with interest rate starting from 6.08%. The amount of financing available is up to RM150,000 and you don't need a guarantor. Takaful coverage is optional for this personal loan, but do take note that if you opt to not take takaful coverage you will be charged more.
Negotiable rate will be offered to employees of selected companies or cooperatives with certain conditions as determined by the bank. Ibra' will also be provided if the financing repayment is settled before its maturity.
Financing tenure:
Eligibility Financing will depend on your income and the mode of repayment you choose as per below:
Financing rate for this loan will be based on floating rate, Base Rate + profit rate.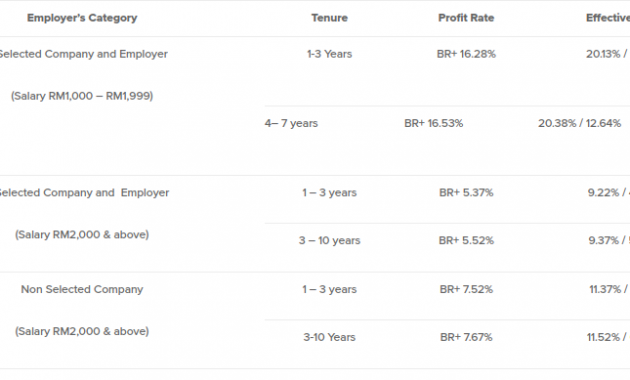 Eligibility
Malaysian citizen, minimum age of 18 years and maximum 60 years old at the end of the financing tenure
Minimum gross income including fixed allowances is RM1,000 and above for permanent employee, and RM8,000 and above for contract employee.
The repayment can be done via methods as below:
✷Biro Perkhidmatan Angkasa (BPA)
✷Salary Deduction
✷Salary Transfer to Bank Rakyat
✷Electronic Payment
3. HSBC Amanah Personal Financing-i
If you're looking for a personal loan with a high financing amount, why not consider this option? With a profit rate of 7%, you can get financing amount of up to RM150,000, but this will depend on your eligibility and the terms and conditions set by the bank. Another plus point for this loan is the flexible repayment period from 2 to 7 years, so you can stretch out the payment to suit your repayment ability. But if you do decide to pay off your loan earlier, you won't need to worry as you will not be charged any early settlement fee. No guarantor or collateral needed for this loan.
Eligibility
✷Minimum age 21 years old
✷Malaysian citizen or Permanent Resident status
✷Minimum monthly salary RM3,000 for existing HSBC Amanah clients, otherwise it is minimum RM5,000 monthly salary
4. Standard Chartered Cash One
A personal loan from Standard Chartered's CashOne will offer you cash financing and also a credit card. The interest rate is 6.99% and when your loan application is approved, you will also be given a Standard Chartered Platinum Credit Card, with the annual fee waived for 5 years. Another unique feature with CashOne is that your monthly loan repayment will automatically be converted into your credit card limit.
For example, Ahmad takes RM25,000 personal loan with CashOne, and after 6 months he has paid RM15,000. The paid amount will then automatically be converted into his credit card limit, which means Ahmad now has RM15,000 credit limit on his Standard Chartered Platinum Credit Card and RM 10,000 outstanding on his loan. The loan repayment is between 1 – 5 years.
Eligibility
✷Minimum age 21 years old
✷Malaysian citizen
✷Minimum RM3,000 monthly income
5. Alliance CashFirst Personal Loan
Whether it is for personal or business use, you can get flexibility when you need cash with the CashFirst loan from Alliance. With interest rate of 7.68%* flat rate basis, there are no processing fees and no early settlement penalty for this loan. The loan tenure is up to 7 years and no guarantor or collateral is required to apply. Take note that there is a limited time offer of 4.99% for loan tenure up to 24 months, available until 28 February 2017.
Eligibility
✷Minimum age 21 years old
✷Minimum RM3,000 monthly income
✷Malaysians and permanent residents working and residing in Malaysia only
✷Malaysians working in Singapore, but residing in Malaysia will be considered.
How to apply all this loan online? you can apply at https://www.comparehero.my/ . We from Jutawan Online highly recommended this website for you. Make good decision before apply.
Fast and easy, now you can definitely choose the best out of the best plan of personal loan here and made your dream come true!